For the 2021/2022 school year, all breakfast and lunch meals are free for all students regardless of family income.
Middle School students may purchase Ala-Carte items during the lunch period. To help lunch lines move faster, we ask that parents put money into their student's lunch account so that Ala-Carte items can be automatically charged. Cash payments are still accepted but they do slow down the lunch line.
As of the 2021/2022 school year we are no longer using MySchoolBucks. Please set up a new account for your students in our new Titan software system.
Online Payments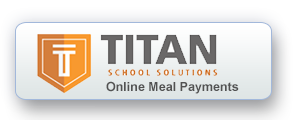 Make online prepayments to your student's meal account online any time!
How do I Enroll?
Go to https://family.titank12.com/NCFLWB and click "Register for an Account"
Activate your account and add students. You will need your student's name and school ID number (9 digit number). Your student's ID number can be located on their progress report or report card or you can contact your child's school site and request that it be emailed to you.
Provide your credit or debit card information. If you do not want the system to store this information, you can simply click on the link entitled "my billing accounts" and check "remove" next to the credit card on file after your purchase has been made. If you would like to schedule recurring payments, that option is provided for you during the checkout process.
We hope that you enjoy this new service! If you have any further questions, please visit https://family.titank12.com/NCFLWB and select the FAQ link. If you need assistance with the enrollment process, please call Titan Customer Support at (844) 467 4700, option 2.
Send Check or Cash
You can always bring money personally or send it with your student. Please place it in an envelope marked clearly with your student's name, their ID #, their teacher's name, the $ amount and the check #. Turn in prepaid deposits to the cafeteria cashier(s) or school office.


If you choose to bring money to school personally or send it with your student, please put it in an envelope clearly marked with the student's first and last name, their ID #, their teacher's name, and the amount enclosed.
School Meal Charge Policy

Our School Meal Charge Policy was created with the following goals in mind:
To establish a consistent process for the district regarding payment of school meals
To be respectful and always provide equal opportunity for all students
To maintain the financial integrity and monetary responsibility of school nutrition programs